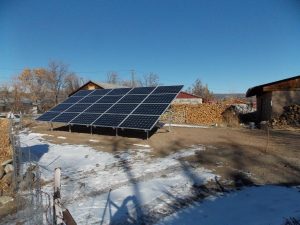 Sustainability and energy efficiency are prime examples of our ability to offer clients a full scope of services. Our Solar installation company, Sol Luna Solar, provides clients options for turning their home or business into a power plant that produces and utilizes its own energy for electric and heating purposes.
Los Ebanistas is committed to building environmentally conscious homes of exceptional craftsmanship that will last lifetimes and we are dedicated to promoting sustainable building practices by utilizing modern, renewable energy technologies.
After many years of installing Solar Thermal Heating systems in custom home, Los Ebanistas launched a new Solar installation company, Sol Luna Solar. The company provides expert service and installation for Solar Thermal (hot water heat and domestic hot water) and Solar PV (electric) in Northern New Mexico.