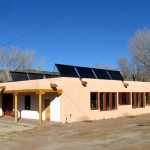 Los Ebanistas operates out of a state of the art woodworking shop in Dixon, NM. Our 2000 square foot shop is 100% carbon neutral, net zero.
By utilizing the Sun's energy for Solar Thermal Radiant heating and for Electric usage (there is a 4kw Grid-Tied Photovoltaic array on the property), Los Ebanistas is able to offset its utility consumption by 100%.
The shop allows our expert craftsman the space and equipment to design and construct custom cabinets, doors and authentic wood products for the residential homes and businesses we build. It also serves as the Solar Showroom for Sol Luna Solar, the Solar installation segment of Los Ebanistas Inc.